Ebola survivor Dr. Kent Brantly thanks 'our great, compassionate, merciful God' as he speaks at ACU, urges believers to help West Africa.
Dr. Kent Brantly had a message for all those inclined to panic about a possible Ebola outbreak in the U.S.
Don't.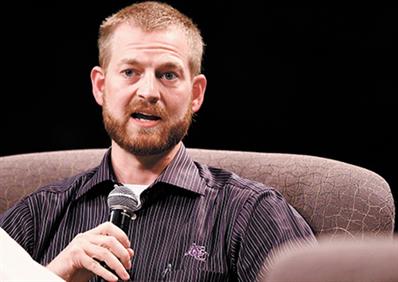 JERRY ENLOW, ABILENE CHRISTIAN UNIVERSITY
Dr. Kent Brantly speaks during an interview session at Abilene Christian University.
"There has been a lot of panic, a lot of — I hesitate to use the word hysteria — around the events in Dallas," he said during a visit to his alma mater,
Abilene Christian University
. The medical missionary and Ebola survivor urged people of faith to spend time praying and seeking ways to help the people of West Africa, "not worrying that, because we live 100 miles from a hospital that treated a patient, that we are at risk."
Two days before Brantly spoke, during ACU's homecoming weekend, Thomas Eric Duncan died from Ebola at Texas Health Presbyterian Hospital in Dallas. Two days after Brantly's visit, health officials announced that a second person — Nina Pham, a nurse who had treated Duncan — tested positive for the deadly virus.
Brantly's photo appeared on TV sets across the U.S. as the physician battled the virus. Around the world, people prayed for him by name — and for Nancy Writebol, another American who contracted Ebola while serving in Liberia. Both were treated and recovered from the virus at Emory University Hospital in Atlanta.
"This is not about me," Brantly said, repeatedly, as he spoke at ACU. "This is about our great, compassionate, merciful God and our neighbors who need our help."
PRAY FOR AFRICA LIKE YOU PRAYED FOR ME
"It was here that I first began to feel the Lord's calling on my life to serve as a missionary," he said, adding that the university "helped me learn what it means to be a disciple of Christ."
He graduated in 2003 with a degree in biblical studies but returned for an additional year of science courses after he decided to pursue medicine.
Her husband's voice cracked with emotion as he talked about the people they served. He noted that, when he was interviewed on NBC, the network reported the number of Ebola cases in West Africa at about 4,000. A few weeks later, the death toll exceeded that number.
- See more at:
http://www.christianchronicle.org/article/this-is-not-about-me#sthash.MGcN7aVt.dpuf